If you didn't have the chance to read my 100th post, please check it out!  I have embarked on a new adventure for the next 100 weeks, which began a couple weeks ago.  Today, I am posting NUMBER 3 out of 100.  I'm so excited to continue on this fashion journey!  For more information on MY ONE HUNDRED, please click here and also check out "The One Hundred" by Nina Garcia.
For years I have been on the search for THE Ankle Bootie, with no luck.  I would spot one, try it on, but it was the wrong size, wrong cut, wrong fit, wrong color…it was hopeless!  So after years and many seasons passing by, I just gave up.  Until a couple weeks ago when my faith was restored…I spotted these Ralph Lauren booties!!!  I finally found an ankle bootie with a great look, a perfect fit and the comfort to last me all day.  These boots are made for walking…well, in this case, these booties!
NUMBER 3/100 - ANKLE BOOTIE
DAY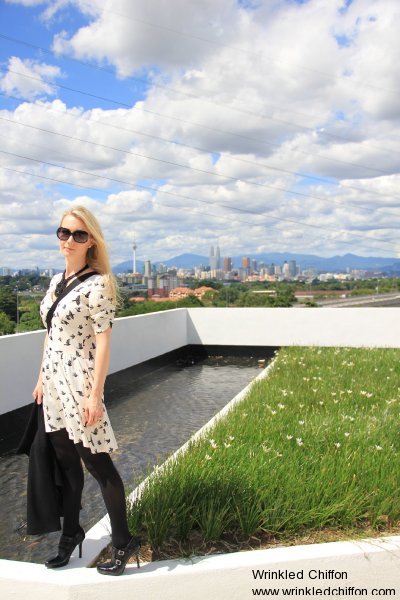 P.S.  My husband found this amazing spot on top of a parking garage…I won't say we sneaked up there, but it definitely was a crazy afternoon!  No matter the case, the view was amazing as we got the entire KL city skyline in the background of these shots!  It was a beautiful, clear weekend in Kuala Lumpur.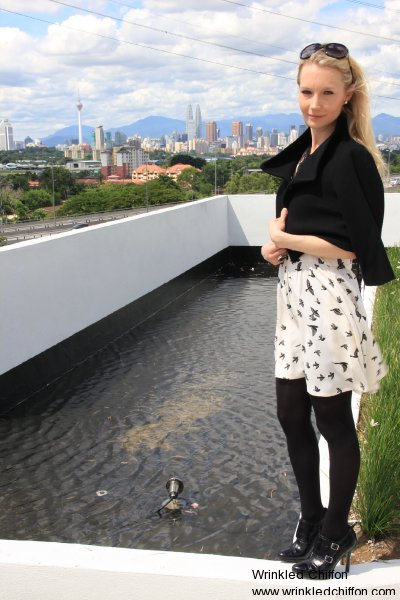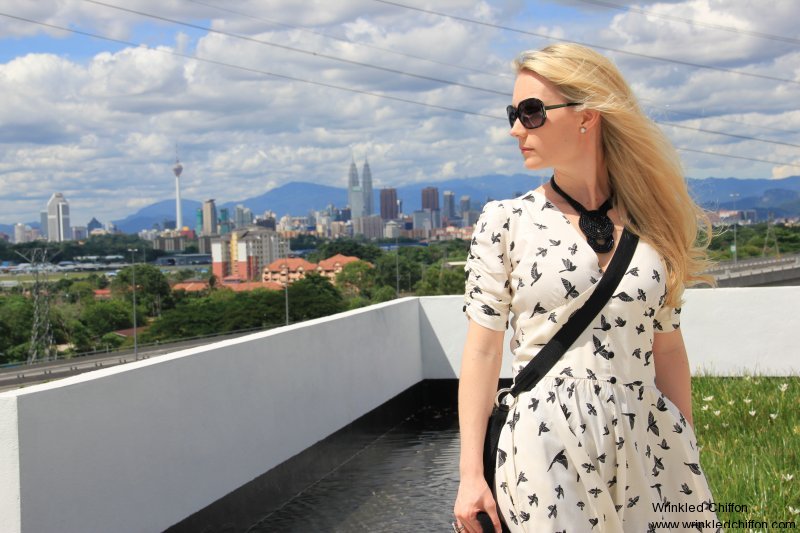 When wearing booties with a skirt, it's great to wear opaque tights in the same color to keep your line going and going and going, as Nina says.  The longer looking leg the better!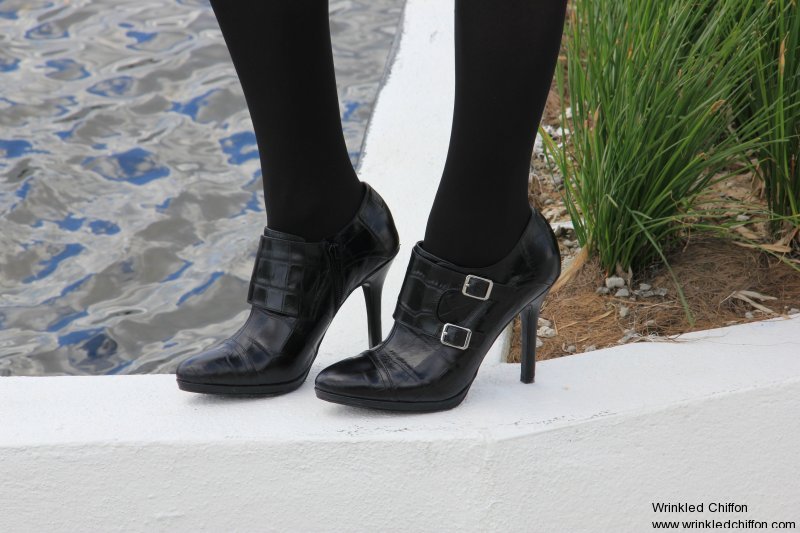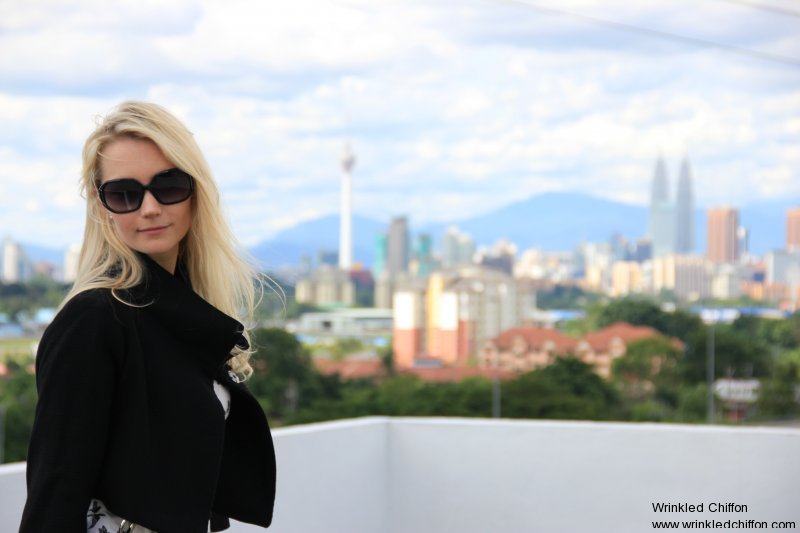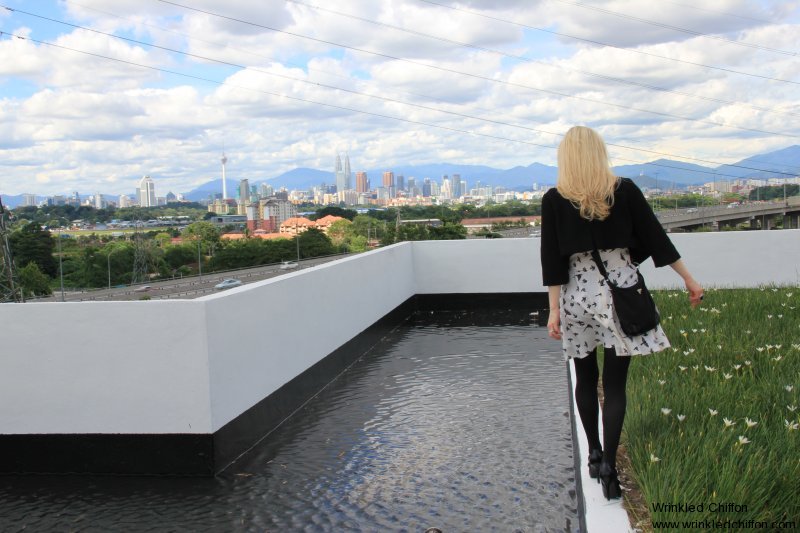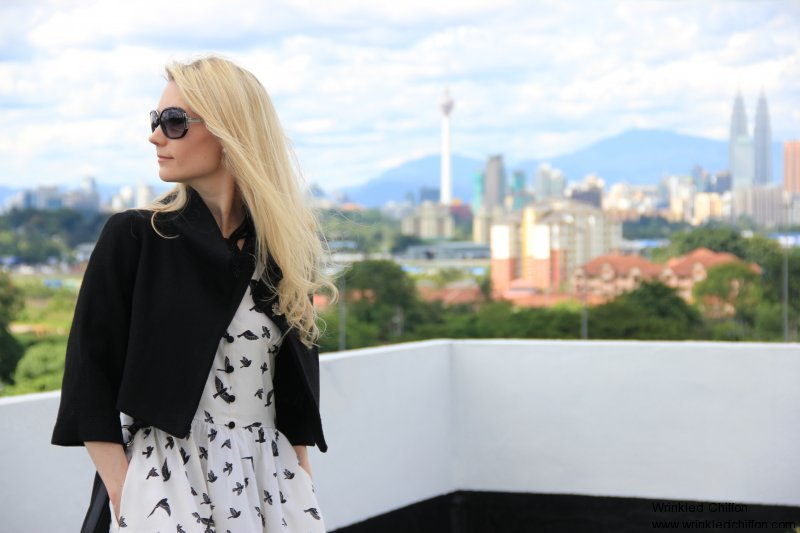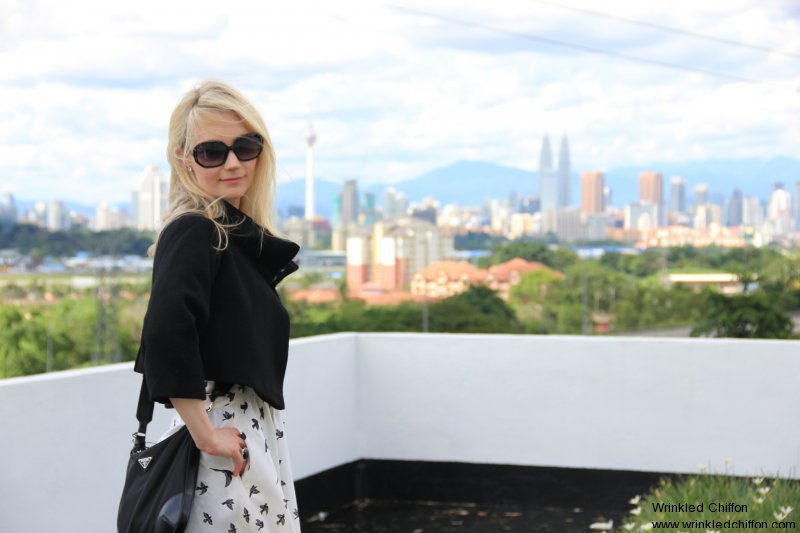 To see MORE PHOTOS click HERE or visit me on FACEBOOK.
Ironing Out the Details:
Dress – MODCLOTH by SUGARHILL BOUTIQUE Kiting Along Dress
Blazer – Vintage; Similar blazer
Necklace – EXPRESS Knotted Multi-Chain Necklace
Earrings – WHITE HOUSE BLACK MARKET Emerald Cut studs
Sunglasses – MARC by MARC JACOBS
Tights – HUE
Booties – RALPH LAUREN Latisha Monk Strap Bootie
Purse – PRADA
 Thanks so much for following and being a part of Wrinkled Chiffon.  Please follow my blog with Bloglovin and don't forget to LIKE Wrinkled Chiffon on Facebook!
Have a great weekend!
xoxo Wrinkled Chiffon