Grazing in the Gobi Desert, which stretches from North China into Mongolia, lives the world's largest population of Kashmir goats.  These goats are responsible for the majority of our cashmere luxury clothes.  Since the climate in this area of the world mirrors that of the Himalayas, the goats are able to grow an inner wool to protect themselves from the severe cold weather.  However, each Spring this inner wool is shed and combed off to produce cashmere.  This process of combing, collecting, washing and softening the wool does take time, explaining why cashmere can be very expensive.  Ounce for ounce, it is the warmest of natural fibers, along with one of the most comfortable and luxurious.  As Coco Chanel said, "Luxury must be comfortable, otherwise it is not luxury."  And we all deserve something luxurious, so splurge this winter season and purchase something in cashmere, if you haven't already!  I recently did and this sweater has become one of my favorite items in my closet and number 17 of MY ONE HUNDRED.
Also, in today's post I'm featuring the THIRD style for How to Wear A Brooch…I call it the "Anne of Green Gables" way…
1.)  Lapel Pin
2.)  Hair Jewelry/Accessory
3.)  Anne of Green Gables way
NUMBER 17/100 – CASHMERE
WORK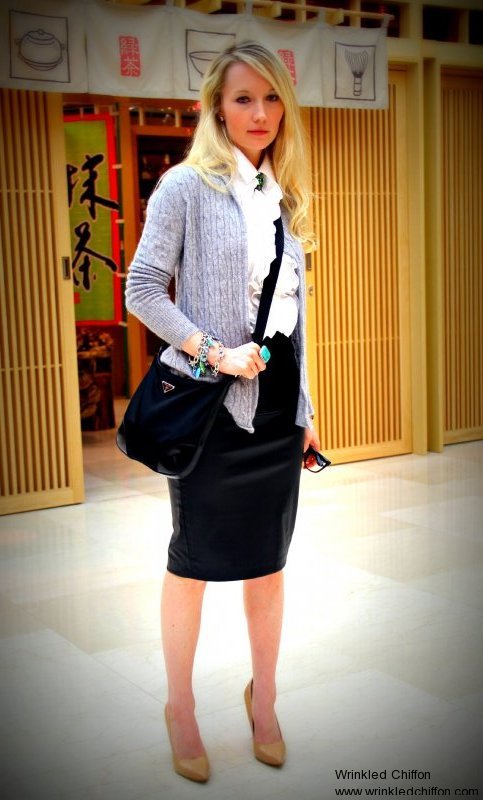 After work, we headed out to grab some dinner and ended up with dessert instead, ha!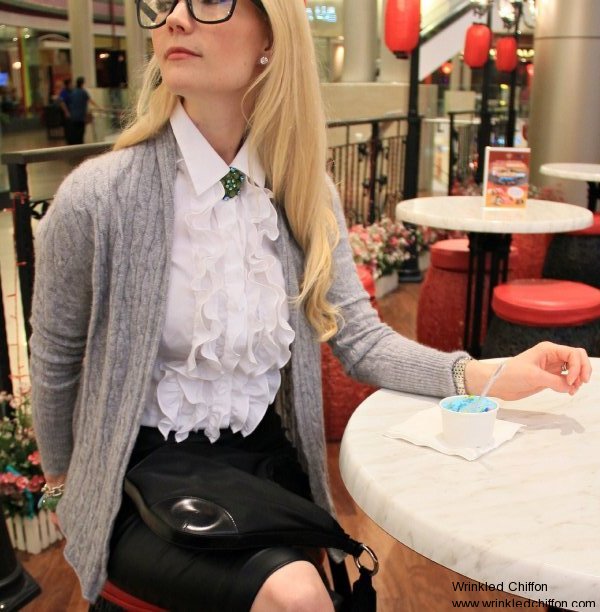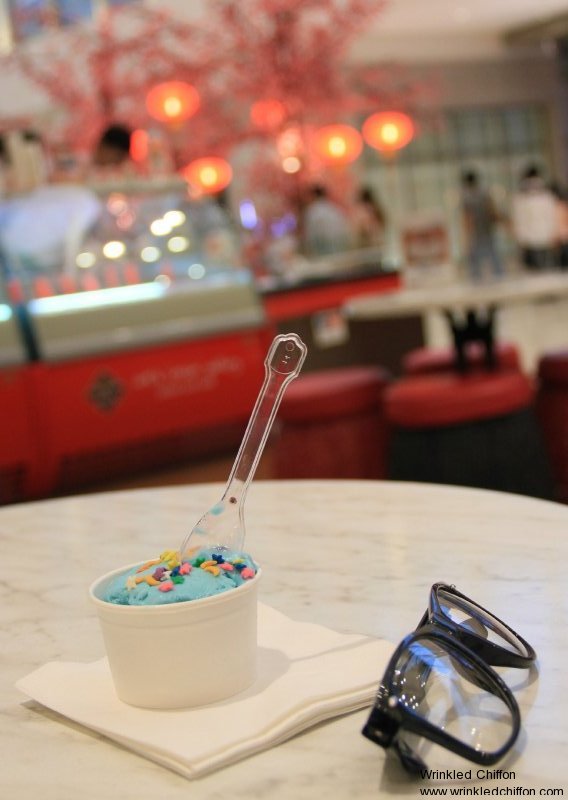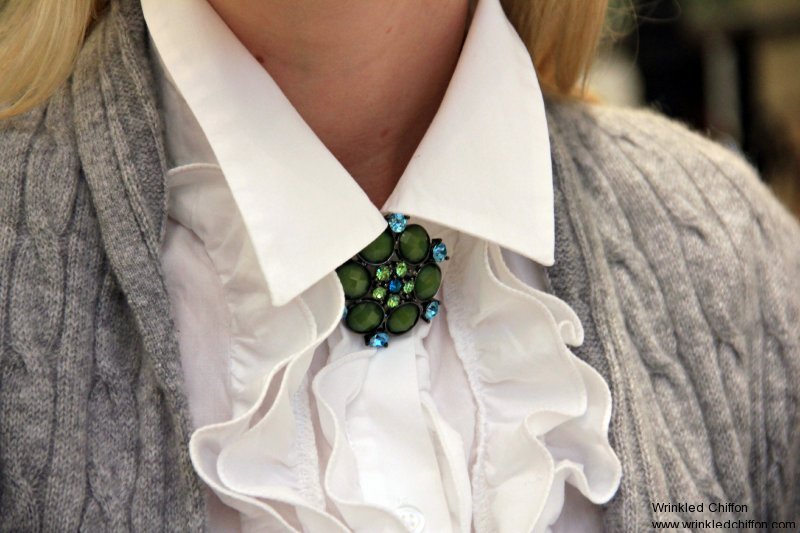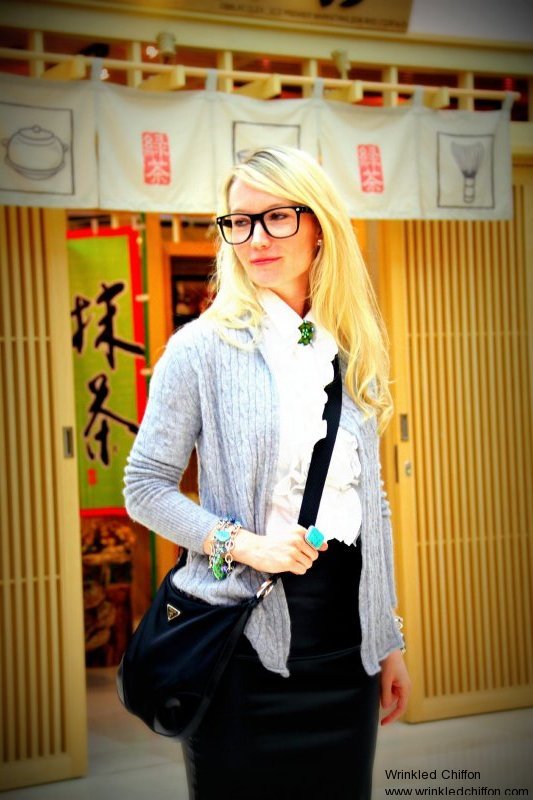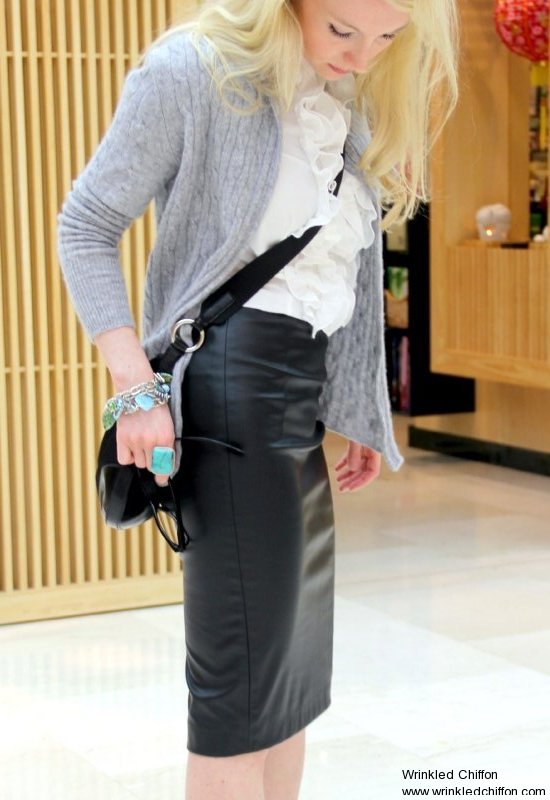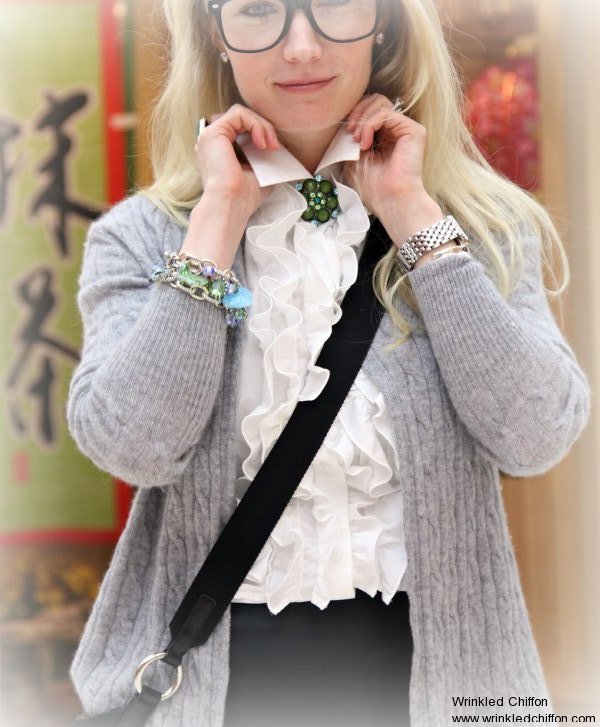 Thanks so much for following and being a part of Wrinkled Chiffon.  Please follow my blog with Bloglovin and don't forget to LIKE Wrinkled Chiffon on Facebook!
Ironing Out the Details:
Blouse – VICTORIA'S SECRET, Similar
Cashmere Sweater – WHITE AND WARREN
Skirt – ZARA leather pencil skirt
Earrings – Gifted, Similar
Bracelets – DAVID YURMAN and Gifted, Similar
Ring – Vintage, Similar
Watch – MICHELE
Brooch – Gifted, Similar
Heels – NINE WEST
Bag – PRADA
Have a great weekend!
xoxo Wrinkled Chiffon