In Nina Garcia's book, "The One Hundred", she didn't mention bobby pins as one of her top one hundred style items, but I think that good bobby pins for your styling are a must!  It's funny how much I have realized this while living in Malaysia, where the heat and humidity do wonders for my hair…hence I wear it up quite often.  Therefore, I have included bobby pins as number 10 in my One Hundred.  Although there is really no method to my madness as I like messy, tousled buns, my bobby pins sure come in handy to keep each strand secure for a long day at work.  Below is a list of some of my favorites.
NUMBER 10/100 – BOBBY PINS
WORK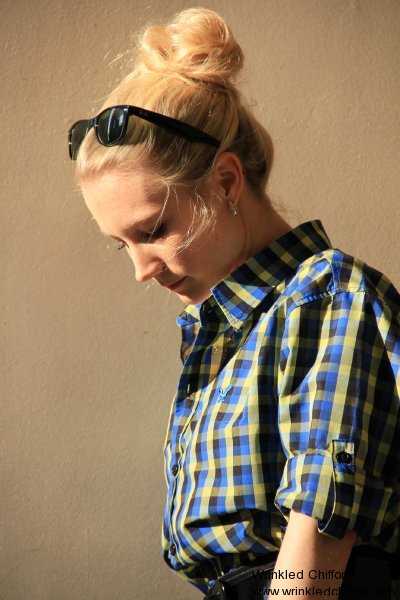 1.)  Goody Colour Collection, Small Metallic Blonde – I am currently using these and I really like the way they hold my hair, although after a long day, I'm ready to get them out!
2.)  Scunci No-slip Grip Beautiful Blends Blonde – when I head back to the States I am going to try to find another packet of these…I love the colors in the blonde pack…very natural.  They sell them in different colors as well.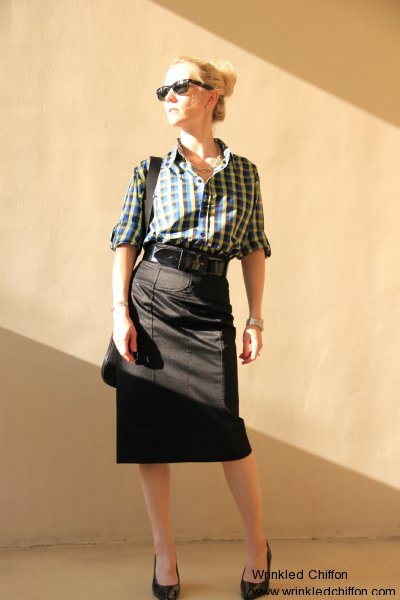 3.)  Meta Grip Premium - I have read some reviews about these online, so when I get back to the States, I'm going to run to Sally's Beauty Supply and grab a pack to see how they work.  Hey, they are patented Japanese technology, what more could you ask for?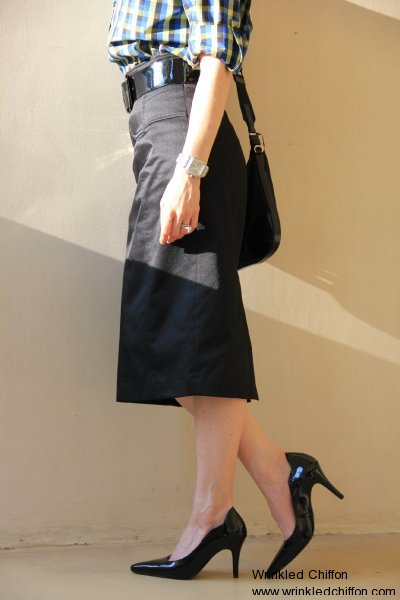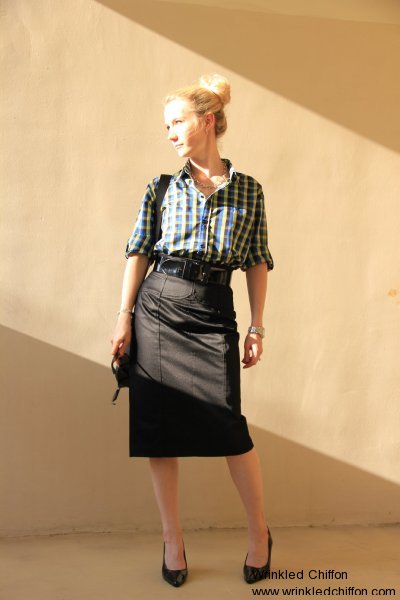 Thanks so much for following and being a part of Wrinkled Chiffon.  Please follow my blog with Bloglovin and don't forget to LIKE Wrinkled Chiffon on Facebook!
Ironing Out the Details:
Blouse – MALAYSIAN bought; Similar plaid tops here, here and here
LAST SEEN HERE
Skirt – WHITE HOUSE BLACK MARKET high-waisted pencil skirt (no longer available); Similar skirt here and here
Belt – Gifted; Similar here, here and here
Necklace – DAVID YURMAN
Earrings – Gifted Sterling Silver hoops; Similar pair
Bracelet – Gifted TIFFANY'S
Watch – MICHELE
Sunglasses – RAYBAN
Shoes – Patent Leather pumps – MADE IN MALAYSIA, Yes, I actually had them made!
Bag – PRADA
 If you haven't had the chance to read my 100th post, please check it out!  I have embarked on an adventure for 100 weeks, which began a couple months ago.  I'm so excited to continue on this fashion journey!  For more information on MY ONE HUNDRED, please click here and also check out "The One Hundred" by Nina Garcia.
Have a great weekend!
xoxo Wrinkled Chiffon